Nike Air Jordan 1 Original MJ Sample; Made in Italy
SOLD
Unicorn Grail: Original Air Jordan 1 Prototype Customs made for MJ. The upper was made exclusively at an Italian factory with the approach of the Air Jordan 2 coming up. This size 13 pair was a middle ground test for a factory to uniquely construct the AJ1 on the new PU AJ2 midsole/outsole. 
The upper is unreal. Leather could very well be sourced in Italy as these are a work of artistry and fine craft; which makes sense as it was supposed to go to Mike. They Maintain the beauty and shape of the original 85's but with some modifications;
1. Tongue has extra soft padding within creating a unique aesthetic best seen on PIC 6
2. Top collar shape features an achilles notch cutout along with a material not seemingly wanting to peel as easy as '85 collar underlays. The foam is soft and has all of it's rebound still within.
3. Insoles feature "Made in Italy : Size 13" sticker.
4. Tongue label: black/red
5. No markings anywhere inside.
Comes with original MADE IN ITALY Orange Nike box, original black laces, original Italy insoles and an extra certifying bonus upon purchase.
Shoes will be double boxed and foam padded for support on it's journey.
Check out the photo of MJ wearing a pair in game 👇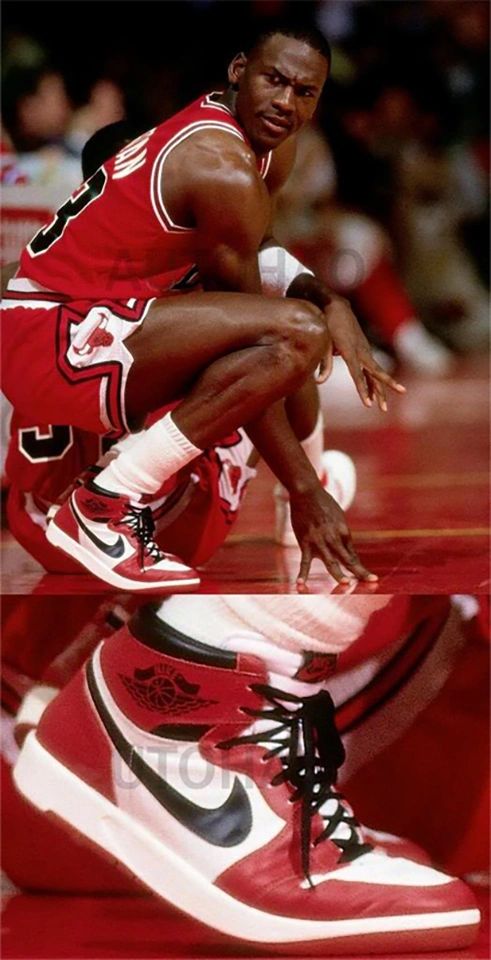 jorwing